Although the match hasn't yet been made official, it is certainly looking as if Fandango will make his in-ring WWE debut in grand fashion with a WrestleMania showdown against Chris Jericho.
If booked, this match-up will inevitably spark fierce opposition from many fans, who will argue that:
a) The unproven Fandango is unworthy of a WrestleMania match against a top-tier star the caliber of Jericho
b) Jericho deserves a higher-profile WrestleMania match at this stage of his career.
Neither argument has much merit.
There are a plenty of reasons to believe that Fandango vs. Jericho is a natural fit for WrestleMania, and that the match has the potential to exceed all expectations.
Let's start with the first supposition, that Fandango is too new and unproven to deserve a match a WrestleMania at all, let alone against the likes of Jericho. While it's true that Fandango has yet to wrestle a match on mainstream WWE television, the guy is certainly no rookie.
It has been almost seven years since he was noticed by WWE talent scouts and recruited to join the company's developmental ranks. That means he signed with company at approximately the same time as Ryback, Cody Rhodes and CM Punk, to name a few. Prior to landing his developmental deal, he had honed his craft for years on the independent circuit.
Performing as Johnny Curtis on NXT, he demonstrated that he knows his way around the ring and can adapt to practically any style of match. His ascension to the main roster is arguably long overdue, making his weekly "refusal" to wrestle on Raw an ironic twist. In many ways, his in-ring style matches that of Jericho's: a mix of speed, solid grappling and buckets of self-assuredness.
The second argument — that Jericho deserves better than a match with a fledgling upstart — is equally empty, when you consider the current status of Jericho's career. Having accomplished practically every goal he has set out for himself, Jericho has nothing left to prove. His most important contribution to wrestling nowadays — as he has mentioned in many interviews — is to help elevate younger talent.
Jericho is unlikely to stick around WWE for too long after WrestleMania. As he has done before, he will probably stay with the company long enough for a feud to reach its culmination, then vanish to pursue one of his many other showbiz interests. You can bet that, before he hits the road again, he'll want to feel as if he made a positive contribution to the business that made him a star. That contribution could be pushing a arrogant new pretty boy into the spotlight.
After all, Jericho must see glimmers of himself in Fandango. In many ways, they are mirror images of one another.
Remember how, the last time Jericho returned from a long absence, he went many weeks without saying a word to the WWE fans? It got under people's skin, much like Fandango's weekly refusal to wrestle a match.
Jericho was on Dancing with the Stars; Fandango is a ballroom dancer (or pretends to be, anyway). Jericho wears sparkly jackets and makes elaborate entrances; ditto for Fandango.
And who better than Jericho — a motormouthed master of the putdown — to feud with Fandango, who enunciates every word (especially his own name) with breathy, drawn-out gravitas?
Their backstage confrontation this past Monday on Raw proved that Jericho is a perfect foil for Fandango's self-seriousness.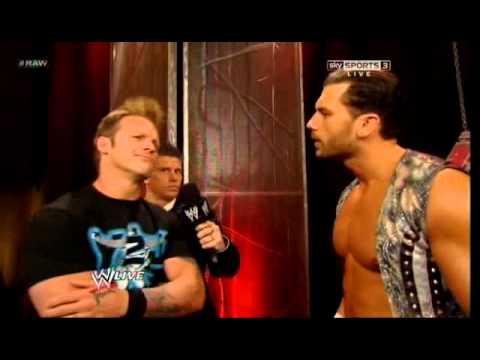 The most important question, of course, is whether Jericho and Fandango would have a good match. While Fandango has certainly paid his dues in the little leagues, the big variable is how he'll perform in front of one the largest live crowds in WWE history, not to mention an enormous pay-per-view audience. Given how well he has played his role on Raw, he deserves the benefit of the doubt.
A match between these two might be exactly what the WrestleMania card needs. A fast, athletic wrestling clinic between two similarly built men could fit perfectly between, say, a plodding battle of behemoths (Ryback vs. Mark Henry) and a no-holds-barred slugfest (Triple-H vs. Brock Lesnar).
While it's a stretch to think that Jericho and Fandango would pull off a Steamboat-Savage show-stealer (they'd never be given enough time for that), there's good reason to believe they could create a "sleeper hit" of the event. At the very least, it would be the trial-by-fire moment that Fandango needs to determine the future of the character.